A playful way to explore Baja California through an array of elements that attempt to represent the entire state. Created by Enigma Creative, the project features: a board game with seven distinct topic areas—each developed in collaboration with a panel of experts—as well as 54 illustrations for the cards; a series of three posters; three booklets by invited creatives under commission; five collectable pins; a tote bag and website.
Lotería Califerne is a project inspired by the traditional Mexican game of Lotería. The point of the game is to communicate the distinctive features of Baja California in a fun way. Our aim is to explore the characteristics, traits, and customs of the region and to bring together information that we feel brings us closer to defining who we are.

We firmly believe that this project is connected not only to the experience of design as seen and understood in this region, but also as part of an exercise to imagine the borderlands.
The Mexican game of Lotería is a card game that originated in Italy in the 15th century, later reaching New Spain (Mexico) in the late 1800s. For a time, only the upper classes played the game, but with the arrival of the War for Independence (1810-1821) it became popular with Mexican families as a daily pastime. It was an important part of traveling fairs in several states in the country, finally becoming the most important traditional game of Mexico.

Lotería is played with a deck of 54 cards and as many boards as desired, each board with 16 squares. The game is played as follows:

A card is drawn from the deck, and the name of the card is called out for the participants.

If you have a square on your board that matches the card, you mark it.

The winner is the person who yells "Lotería" after marking all of the boxes on their board.

Another important element of Lotería is the existence of its famous couplets, rhymed verses that have been part of the game since about the 19th century and which are written in a tone somewhere between riddles and folk poetry: each couplet or verse refers to the name of a card. The gritón* (announcer or yeller) has two options: the person can cantar* (sing) the couplet or just call out the name of the card drawn from the deck.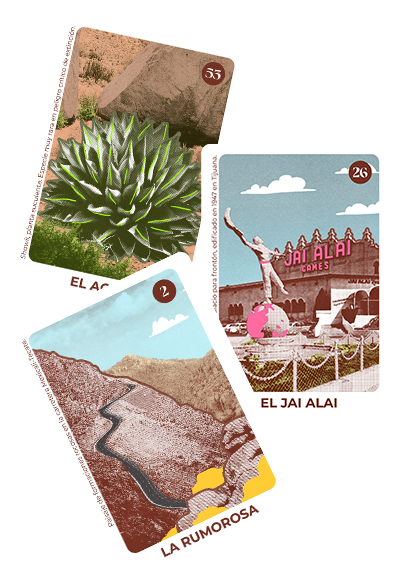 We are grateful for the easy access and use of the images to: Photo Library of the Tijuana Historical Archive, of the Municipal Institute of Art and Culture; Enigma Creative Image Archive; Gabo Lozano, and Christopher Salvatierra.

THE COLLABORATION
We deeply believe that the best results are achieved through teamwork. It is a simple fact: many minds and specialized talents have transformed the Lotería Califerne. Thank you to each person who helped!
Web Development, Alina Vera

Translation, JP Pluecker

Video Production, Tesoro Audiovisual

Music, Pepe Mogt

THE ENIGMATEAM
This project has been developed by a team of people passionate about what they do and what they believe. Muchas gracias to each one of them for enriching the Lotería Califerne with their talents:
Creative Direction, Art Direction, Katalina Silva

Curation and Creative Planning, Ingrid Hernández

Strategy and Project Production, Arturo Elenes

Illustration and Graphic Design (Senior), Tania Valencia

Illustration, Abigail Peña

Illustration and Graphic Design (Junior), Mayuko Zúñiga

Illustration and Graphic Design Assistant, Alexa Silva

Copywriting, Marlon PV

Social media content, Diana Fernández

Community manager, Samara Nava

Production Assistance, Miguel A. Gómez
Enigma Creative is a space for multidisciplinary collaboration. People who are passionate about what they do and what they believe.
People who love all forms of creative expression and use them to develop communication strategies, creating a distinct voice similar to a digital fingerprint: unique and impossible to replicate. People driven by a spirit of teamwork. People investing in ideas that make our community stronger and more powerful.